New in for October! Miniature orchids incl; Dend Cuthbertsonii (pictured below), neofinetia falcata, Aerangis kotchyana; species Paphs inc rothschildianum and hybrids; Pleurothallids/Pleurothallis (species); assorted Cattleyas. See our list below . Come and visit or call Laurence for details on 07961 350053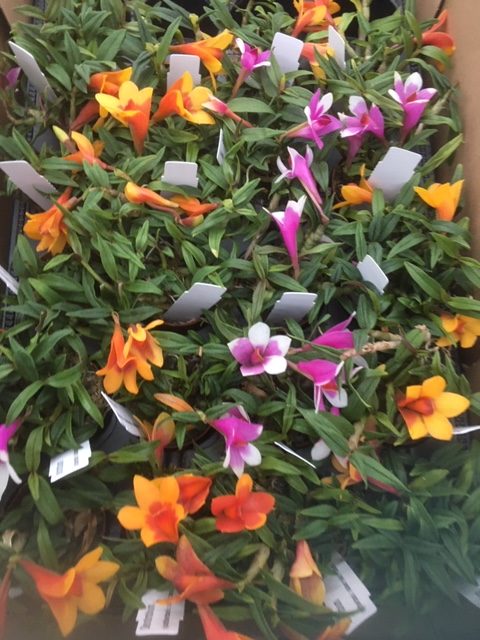 With orchid shows and meetings still on a future agenda, we have been tremendously cheered by the Societies and Orchid groups' upbeat approaches to keeping the communication lines open for all orchid enthusiasts with virtual table top shows. We've all enjoyed seeing the fantastic photographs and hearing your news chatter; this been a real boost for all at LHO, knowing things are carrying on despite the current situation – and we can't thank all of you enough for the continued contact and support, its been a lifeline!
During the recent months we have been focusing on building our stock with a wider variety of plants and putting together collections for beginners or enthusiasts and we hope the updated plant list below will be of interest. We are aiming to add new stock on a regular basis, so please also keep checking our plant list page for our full range of stock. If you can't see what you want on the lists please ask – we will try to source the plant if possible. We send by mail all over the UK and for anyone needing help or advice Laurence is always available. Please let us know if you want regular plant lists by post/email.
We are currently open to visitors on most days by appointment and are holding extended open weekends twice each month. All visits are subject to the current UK Govt regulations and guidance so we recommend you call in advance to arranged visiting times on 07961 350053, email lhorchids1@btinternet.com, or use our website contact page www.laurencehobbsorchids.co.uk. Passing visitors also welcomed but this might be subject to waiting times depending on the number of people already in the greenhouses.
Looking forward to welcoming you all, regards Laurence
Upcoming Open Weekends : social distancing guidance applies. Please ring ahead for visit allocation times.
Fri Nov 6th – Sun Nov 8th; & Fri Nov 13th – Sun Nov 15th Open from 10.00 – 5.00
Unfortunately we are not able to offer light refreshments at this time but please feel free to bring along your own.
Can't make the weekend open days? Give Laurence a call to book another time to suit. Available on most days currently Tel:07961350053 Email:lhorchids1@btinternet.co Website: laurencehobbsorchids.co.uk
Orders available by post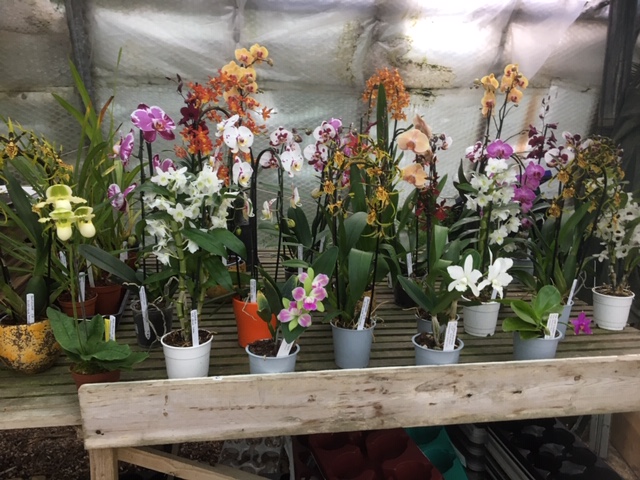 Some of our colourful orchids available seasonally
October 2020 plant List
Please call or email for information on availability. Pictures can be sent via mobile app or email and we are also on Instagram. Black and white lists can be posted on request.
NFS – Near Flowering Size: FS – Flowering size
Ansellia africana 4" pot £20.00
Aerangis Articulata 3.5″ pot £20.00
Aerangis kotchyana FS on cork £20.00
Aerangis kirkii African species FS 2.5″ pot £20.00
Aerangus mystacidii African species NFS on cork £20.00
Aerangus somalensis African species NFS on cork £20.00
Angraecum Crestwood (sesquipedale x eburneum) 3″ pot £30.00
Angraecum dideri 2" pot £20.00
Angraecum distichum African species FS on cork £20.00
Bulbophylum medusae incredibly rare species FS 4" £30.00
Eurangis Victoria Nile (Aerangis kotchyana x Eurychone rothschildiana) FS 3.5" pot £30.00
Gongora aromatica spicy scent 4.5" pot £30.0
COMPACT/MINIATURE CATTLEYAS
Cattleya Barefoot Mailman red/yellow kaleidoscopic hybrid FS 3.5" pot £25.00
Cattleya Young Min Gold FS 4.5" pot £25.00
Cattleya Robert Strait 'Tsiander' FS 3.5" pot £25.00
Cattleya Jins Fong Wish 'Classical' FS 4" pot £25.00
Cattleya Village Chief 'North' FS 3.5" pot £25.00
Blc. Solar Flare FS 4" pot £25.00
Blc. Shinfong Pink FS 4.5" pot £25.00
Cattleya Shion Free yellow with deep pink lip FS 4.5" pot £25.00
Cattleya Young Min Gold orange flowers FS 4.5" pot £25.00
Cattleya Chiali Red Cat scented, deep lavender FS 4.5" pot £25.00
Cattleya Wufong Rose 'Sweet Perfume' FS 3.5" £25.00 Cattleya Chantilly Lace FS 4" £25.00
Cattleya Chantilly Lace FS 4″ pot £25.00
Laelia rubescens x Broughtonia negrilensis FS 4,5″ pot £30.00                                                  
Dendrobium tangerinum FS 3.5" £25.00
Dendrobium formosanum FS 3.5" £25.00
Dendrobium wattii FS on raft £25.00
Dendrobium sanderae var. Luzonica FS 3.5" £25.00
Dendrobium uniflorum FS 3.5" £25.00
Dendrobium convolutum FS 3.5" £25.00
Dendrobium cuthbertsonii x sulawesiense in flower FS 2" £20.00
Dendrobium gouldii Blue 4N 3.5" £25.00
Denrobium capituflorum species FS 3.5" £30.00
Dendrobium chrysotoxum lovely deep yellow species FS 3.5" £30.00
Dendrobium farmerii species FS 3.5" £25.00
Dendrobium farmeri 'Pink' FS 3.5" £25.00
Dendrobium finisterrae species FS 3.5" £25.00
Dendrobium griffithianum species FS 3.5" £25.00
Dendrobium oligophyllum pretty, scented white species FS 3" £25.00
Dendrobium smilliae var.alba species FS 3.5" £25.00
Dendrobium speciosum type 6.5" £25.00
Dendrobium lituiflorum division £19.50
Dendrobium nobile var cooksoniae 3.5" £19.50
Dendrobium on cork £15.00
Dendrochilum abbreviatum 3" pot £9.50 4" / 4.5" £28.00
Dendrochilum latifolium 4" pot £12.00 5" pot £18.00 5.5" £20.00
Dendrobium aphyllum 2.5" £9.50
Dendrobium densiflorum species 2" £12.00
Dendrobium brymerianum species 2" £9.50
Dendrobium Casiope (moniliforme x nobile) 2.5" £9.50: 3.5" £12.00 5.5" £30.00
Dendrobium nobile 'Heathers' 4.5" £25.00
Dendrobium moniliforme species on cork £15.00
Dendrobium thyrsiflorum 'Bailiffs Cottage' 4" £25.00
Dendrobium Stardust 'Firebird' lovely orange dend 2.5" pot £7.00 4" £18.00
Dendrobium Suffusum 'Sara' 3.5" £18.00
Dendrobium longicornu 2.5" £9.50
Dendrobium Berry Oda 4.5" £15.00
Dendrobium Colonial Surprise x Kathryn Banks 3" £10.00
Dendrobium Kingrose 4" £18.00
Dendrobium nobile var.albiflorum 3.5" £15.00
Dendrobium pseudo equitans NFS 3.5" £25.00
Lycaste hybrids white FS 4.5" £30.00
Visit our plant list web page for other stock plants, including starter packs and beginners collections, pots, compost & feed
Orders by post available.
Tel Contact Details for all enquiries – please call 07961 350053
——————————————————————————————————————–
Orchids at home –
Why not start growing orchids with us?
Great advice, customer service and with over 40 years of experience of orchids, Laurence is always willing to offer help with cultural questions and problems. Pick up the phone for a chat contact us through our website page, or email with a telephone contact number and he will get back to you. We have starter collections of flowering size or younger plants or various mixtures of both . Photos of plants we have in stock can be sent via WhatsApp and all plants sent by post are expertly wrapped.
Happy growing!
——————————————————————————————————————–
Looking for other plants? Nurseries we recommend :
www.wackswickedplants.co.uk for carnivorous plants Pete & Helleentje. 07530 176624 info@wackswickedplants.co.uk

www.facebook.com/HighdownGC for garden plants tools and accessories- 01903 242003 hello@highdown.co.uk

ww.craighousecacti.co.uk for cacti & succulants – Stan & Vicki 07788 753215
———————————————————————————————————
Leasingham Show update:
Show Efforts see more than £700 Donated to Local Good Cause
A huge thank you to our enthusiastic friends and colleagues along with the all the show visitors who made our 2nd Lincoln Orchid enthusiasts a fantastic event raising £739.50, for the Lincs/Notts Air Ambulance service.
The 2nd Lincolnshire Orchid Show, held at Leasingham Village Hall on Saturday October 5 attracted 210 visitors who were treated to stunning flower displays, along with a magnificent selection of plants from multiple RHS Gold Medal Winners Craig House Cacti.
Not to forget the delicious homemade cakes, fine food fare and other treats which were also available to keep all the helpers and visitors sustained throughout the day!
East Midlands Orchid Society were awarded the Best Species and Best Hybrid in show with fabulous displays also from the Hinckley & District Orchid Society and the North East Orchid Society. The Lincs/Notts Air Ambulance were also represented.
"We couldn't have run this show without the wonderful support from our friends and colleagues in the orchid and plant world and from the local community," said Laurence Hobbs, who along with business partner Sandra Holland co-owns the Sussex-based orchid business.
"With so many to thank for their efforts, from manning the displays, the kitchen and doors, we would like to mention especially, Tony and Liz, Geoff, Margaret, Don and Mary, Keith and Yvonne for mustering all the hard-working volunteers as well as pitching in themselves. Also to Stan and Vicky from Craig House; Stuart and Fiona from the North East Society; and to Paul for his help with the hall and announcements. A wonderful day enjoyed by all."
The Donation for the Air Ambulance Charity was raised through entrance tickets, tombola and from food and drinks. Along with the £448 raised at the inaugural event last year, donations to the charity so far have exceeded £1180.
The next show is scheduled for Saturday Oct 3rd 2020 at the Leasingham Village Hall, Chapel Lane, NG34 8LB. We will be looking forward to welcoming all this year at hopefully, a virus free time. Please keep checking back on our website in case of changes.
Want to participate? Got inspiring ideas for additional displays, table top-stalls, informative sessions? or for anyone wishing to join in, please contact Laurence direct on 07961 350053
For any further information contact Laurence on 07961 350053 Email:lhorchids1@btinternet.com
____________________________________________________________________________
Orchids – make the perfect gifts !
Lots of colourful flowering plants available for sale both directly and via postal services. We also attend various shows and hold our own open days.
Currently these events are affected by Coronavirus restrictions but we will update this website as the situation changes. We are open to visitors (see restrictions above) and offer orchids by post.
Now celebrating over 30 years as a nursery, Laurence Hobbs Orchids Ltd has been established in Sussex since 1987.
We are near to Junction 10 (next turnoff past Gatwick) on M23 and head towards East Grinstead, then Crawley Down – postcode RH10 4LN, Bailiffs Cottage Nursery. Or call us for directions; 07961 350053
Purchases/delivery
Please call/email direct for purchases and delivery arrangements. We accept most cards or cheques with payment by phone or post. Delivery arranged to suit you..
For further details on where we may be seen at various events in the UK see Shows page; For contact information on Orchid Society Groups in your area see Societies page